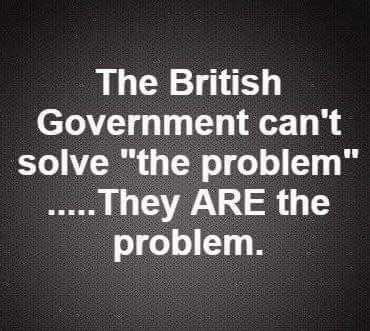 To leave the EU or not to leave the EU – is that the question? BBC published this analysis about migration, benefits, sovereignty, competitiveness, protecting non-euro countries, security of the 'EU deal'. But are these the issues?
The Rule of Law
What if Articles 1 and 13 of the EU Convention of Human Rights were implemented in the UK version of the Human Rights Act?
Article 1 makes all articles 'binding' "within their jurisdiction";
Article 13 guarantees an '

effective remedy

' before

national authorities

.
If the articles were included, we would be able to sue:
We would not have had to petition
The Rule of Money
What if the Bank of England Act 1694 was enforced not only in the UK but all Central Banks?
Central Banks (and all banks) would not 'trade';
National Debts would cease to exist;
Money would not be a 'financial product' but a 'medium of exchange';
'usury' aka 'riba', the deadly sin in Islam to make money out of money, would be 'verboten';
the myth of 'growth' – the symptom of charging interest on interest – would be demystified.
The Lust for PaedoSex
Australian abuse survivor by global elite Fiona Barnett says
paedophilia is a red herring. The real thing is satanist ritualist abuse.
In the UK, Dr Linda Stalley of the Maranatha Community in Manchester made this submission to the Children's Commissioner in 2012:
Satanist Ritual Abuse of Children, concluding with: There is a need for an urgent, thorough and pro-active consideration of the nature and extent of satanist ritual abuse of children, including a review of court cases, police and legal procedure, and meetings with victims.
The Coleman Experience publishes:
The Grooming Ground
Newsweek publishes:
Victimisation by Police
The Telegraph publishes about a High Court judgment:
Brian Pead would not be in prison again – as an abuse survivor, whistleblower of paedophilia in Lambeth Council and victim of three police forces:
Maurice Kirk BVSc would not have been harassed by Police – after having helped the Nigerian Musas whose seven children were taken, before the parents were falsely imprisoned and deported:
I would hardly have become the victim of Barnet and Kentish Town Police who imposed disproportionate bail conditions after three arrests and charged me with intimidating witnesses by having published this post nine months ago…
Here's the 2-page summary that an unfairly dismissed Magistrate wrote about my situation.
Related articles