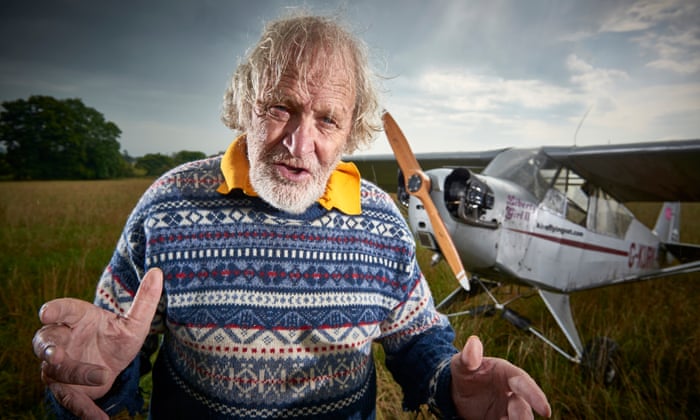 Bruce Jones is the freelance author of this article in the Colour Magazine of The Observer: I fought the law: meet the super-litigants. Some people who represent themselves in court spend months, even years, battling for justice. So why do they go on? Here are four who refused to give up 
And they all thought they would get justice!
Once you fall foul of an official body, all the others conspire against you: Peter Oakes

At the beginning I felt bewildered': Elizabeth Watson at home. Her case file now runs to over 1,000 pages.

I thought if I could prove the police had treated me badly, I could be a vet again': Maurice Kirk – currently crash landed in Kenya – in a rally from Crete to South Africa in historic planes;

I just wanted them to admit they should never have done it.' Julia McClaren
Victims learn from experience. If they don't give up, kill themselves or die, they become
litigants in person

after feeling let down by the legal profession;

starfighters

because they want to look at themselves in the mirror;

campaigners

and

activists

when they join the dots and spot the pattern of issues at stake – such as the human rights, the right to oral hearings, the right to take notes in public galleries, the right to record hearings, the abuse of Police Bail, the secrecy of family courts;
pro bono McKenzie Friends to help others;

Public Interest Advocates

when they see bigger and bigger pictures and set up Help4LiPs for example.
And here an excellent comment:
Dear Sirs
https://www.theguardian.com/global/2016/dec/04/i-fought-the-law-meet-the-super-litigants
An article of this nature has been long awaited by the public.Thank you to Mr. Jones for doing a good job, and thank you to the Guardian for publishing. Hopefully, there can be more on the same subject because there are thousands of people who are being cheated and deceived by those involved in every area of the legal system, and the public wants it exposed and stopped.
Terrible things are happening. It is true that these victims of legal dirty tricks are being conspired against. Serious crime is being committed and concealed by corrupt entities in the judiciary and legal system, and every area of public life – notably police and politicians. In the case of real estate theft, the Land Registry is involved up to its neck. As usual, police refuse to investigate, preferring to log simply solved crimes, such as break and enter and assault, to get their figures up. Plebs don't matter, especially if crimes against them involve complex white collar crime that police are incapable of investigating with the limited unqualified resources that they have. Rather than ask for more resources, I suggest that perhaps they have a sweetheart arrangement with the Home Office and Treasury to the effect that they don't need to investigate these crimes if they happen to plebs, but only if they happen to the government or a prominent member of society. In return, they are underfunded and allowed not to do their jobs, despite their obligations to the taxpayer and international conventions against serious organised crime that the British government is party to.
There is not even a category for reporting white collar crimes, such as fraud to the National Statistician.
A whistle blower and Nottingham resident who exposed child sexual abuse, Melanie Shaw, has been imprisoned, WITHOUT ANY CHARGES OR COURT HEARING, in Foston Hall, Utoxeter. She has been kept in solitary confinement for seven months, and has no idea why she is there. She is not the only one that has been made to "disappear". Obviously, a lot of people must be involved in order to do these things to people so completely and covertly.
"If we bring in Melanie Shaw – the very brave whistleblower from Beechwood children's home. This lady's crime has been to speak out about her own abuse, and that of hundreds of other children.
She has said, and consistently maintained that children were murdered at Beechwood, and in other children's homes. She has an excellent memory. We can now say she's now sixteen weeks into Foston Hall, a Utoxeter Prison. She's been on remand. Nobody of her close associates and lay legal advisors can get near her. She's had no visits. She's been in segregation. And from two brief phone calls she's said that she's been threatened by prison staff.
That includes staff in riot gear coming into her cell and threatening rape. And I have to say to our audience today that in making these statements Melanie has been totally measured. She has not appear in court. She's only been allowed to appear via video link. And she has to endure a court imposed legal team who she's tried to sack at least once. And that imposed legal team has prevented any contact from the lay legal advisors that Melanie wants to help defend her."  http://www.ukcolumn.org/ukcolumn-news/uk-column-news-eu-military-digital-courts-melanie-shaw-14th-september-2016
There are even more horrific stories than this, if you can possibly imagine. We would like to see them published, and trust that you will consider it.
So called "British values" of truth, honesty, integrity, and justice have long been flushed 'down the toilet'. People are waking up to this fact, and are becoming aware of what goes on behind the scenes in the murky world of officialdom. Mr. Jones and the Guardian have shown sensitivity to the public mood, perhaps because of public sympathy for Assange, Snowden, and Manning, and the public's demand for truth. Rachel Oldroyd of the Bureau of Investigative Journalism recognised that the media has been deaf to the public mood and that the media got it wrong about Trump: http://yubanet.com/opinions/rachel-oldroyd-donald-trump-and-the-medias-epic-fail/ So far, most mainstream media has been operating with blinkers on. Thousands of people write to the media every day about the kind of injustices covered in Mr. Jones' article and, apart from his article and the two articles by Mr. Phillip Inman concerning the conspiracy against the late Patrick Cullinane, virtually no truth-revealing articles are published in the mainstream media unless they are on the side of those conspiring against these people. Please see this excellent article by Phillip Inman https://www.theguardian.com/money/2003/may/10/tax.scamsandfraud
The government is doing everything possible to prohibit freedom of speech and, despite the Leveson Inquiry's adverse effect on journalism, journalists have been slow to realise that they are being squeezed out. In many cases, social media is doing a better job and gaining professionalism as it goes.
The people want truth, justice, and exposure of corruption, which is rife in public life. Corruption and lack of government concern for the ordinary people – the 99% – is rapidly taking society back to Dickensian times. The government will have to pay the piper, even if it means bloodshed. Enough is enough.
Thank you again for this article. We would like to see a regular column about injustice and corruption, and do hope you will please consider it. I can put you in touch with victims. For more information on Melanie Shaw and those who are silencing her and trying to break down her mental health, please contact Brian Gerrish, who is copied into this email (above).
Yours sincerely,
KK